Elite Racing Weekend Recap
by Mary Kozloski
January 22, 2017
World Cup
ULRICEHAMN, Sweden (January, 21-22 2017) - A roaring crowd greeted the World Cup competitors, as the Ulricehamn venue played host for the first time on the World Cup circuit. The weekend's races included a 10/15k individual freestyle on Saturday and a 4x5/4x7.5k relay on Sunday.
"I've been so impressed with the venue, the spectators and especially the enthusiasm and hard work from the organizers and volunteers here in Ulricehamn!" Exclaimed Jessie Diggins. "We haven't had a course this packed with energized fans all year long, so it was a really special atmosphere out there!"
Saturday's competition kicked off with a 10/15k freestyle race where Jessie Diggins got back into the groove of racing, after a few weeks of rest following the completion of the Tour de Ski. Diggins led the U.S. Ski Team with a solid seventh place finish, while Erik Bjornsen led the men's team in 28th, securing World Cup points.
"I didn't have the snappy good feelings I was hoping to have in my body today," explained Diggins, "but it was a solid race. "It's always hard when you know that on your best days you are capable of more, but at the same time we had great skis, and it was really fun for me to be able to ski with my teammates today!"
Teamwork kept the U.S. women going, as Diggins and teammate Kikkan Randall were able to work together on the first part of the course and then Diggins was able to ski with Sadie Bjornsen for the next 4k.
"You always get a special boost of energy when you're racing with your teammates around you and working together!" Said Diggins.
"I was thinking I would jump in behind Jessie, but I found myself setting the pace and pulling instead, which allowed me to have a faster start than my average individual starts," said Bjornsen.
Four U.S. women gained World Cup points as Diggins led in seventh, Bjornsen 12th, Liz Stephen 16th and Rosie Brennan 24th.
"It was nice to lap through at 5k, and look up to have Rosie as the next motivation to chase. Once we started skiing together, I could feel her right behind me, which helped me keep pushing hard to the finish," explained Bjornsen. "I think we had some incredible skis as a team today as well!"
Norway's Marit Bjoergen was back on top finishing just 10.7 seconds ahead of Finland's Krista Parmakoski and Sweden's Charlotte Kalla who finished third.
In the men's race Canada's Alex Harvey clinched the win against Norway's Martin Sundby by just 6 seconds and Marcus Hellner finished third.
Sunday concluded with the coveted mix relay races. The U.S. women's team consisted of Rosie Brennan, Sadie Bjornsen, Liz Stephen and Jessie Diggins.
"I was so impressed with my teammates and our staff and how they performed today!!" Said Diggins. "They all skied so well and gave it their all."
Brennan skied the opening leg and positioned herself off of the lead pack as she handed it off to Bjornsen for the classic leg. As Bjornsen moved tactically and aggressively through the course, she made up some time moving from fifth to second. Stephen skied the third leg and worked hard to keep the U.S. in second until handing it off to Diggins who anchored the team.
"For my leg, it felt like a chess match. After watching Sweden's Charlotte Kalla and Liz racing so well but seeing the drafters in their pack still clinging on, I knew my usual strategy of going all out was unlikely to work," explained Diggins.
In the final leg Diggins fought until the finish which resulted in a photo finish for third, after Sweden's Hanna Falk had an unexpected final boost of energy and was able to lung an inch further than Diggins to steal the final spot on the podium.
"I did the best I could with how it played out, but I feel like my fitness wasn't reflected well in this particular race," said Diggins. "It was a huge drafting course and it was exceedingly hard to drop people in the skate leg. It made it a very tight and exciting race though!"
The U.S. women finished just 0.2 seconds behind Sweden l, who stole third, while Norway l, finished first 8.8 seconds ahead of Germany who finished second.
"Although it's disappointing to be less than half a second from the podium, we know that we are in the mix and excited to do it again on the Lahti courses," said Diggins. "I'm very excited for the sharper hills of Lahti next time!"
In the men's 4x7.5k relay, an incredible finish between Norway I, Sweden I, and Canada determined the podium. Norway stole first by 0.8 seconds while Sweden I and Canada tied for second but Sweden came away with second over Canada. The U.S. men's team consisting of Andy Newell, Erik Bjornsen, Noah Hoffman and Simi Hamilton finished 10th.
World Cup Competition continues January 28-29 in Falun, Sweden, with freestyle sprint races and a 15/30k classic mass start.
Women's 10k Results
Men's 15k Results
Women's 4x5k Relay Results
Men's 4x7.5k Relay Results
Worldloppet
OBERTILLIACH, Austria (January 22, 2017) - The 2017 Worldloppet Cup kicked off with the 43rd Dolomitenlauf race on Sunday with a 42k skate race. The French dominated the races as eight out of the first ten places in the men's competition went to France. In the men's competition France swept the podium as Ivan Perrillat-Boiteux from Haute-Savoie Nordic Team stole first just two seconds ahead of Candide Pralong from Team GEL interim Rossignol and Guigonnet Loic who finished third.

Caitlin Gregg at the Three Rivers Ski Rennet
Caitlin Gregg (Minneapolis, MN) of Team Gregg was the defending champion in the women's competition, and was registered for the event, but after qualifying for World Championships coming up in February, she decided to focus on that race and opted to stay in the U.S. and race the Ski Rennet in Minneapolis, MN. Aurelie Dabudyk is now the new defending champion of the women's race, who finished just ahead of Switzerland's Rahel Imoberdorf and Seraina Boner.
SuperTour
TRUCKEE, California (January 21-22, 2017) - The final SuperTour races of period two, were forced to end a day early in Truckee, CA, due to a snow storm shutting down highways to the race venue at Auburn Ski Club Training Center. The storm began Saturday during the 1.1k classic sprints, making for a challenging day of sprints.
Despite the tough sprint conditions, Ben Saxton of the SMS T2 team and Lakeville, MN native, finished second just behind Benjamin Lustgarten, of Craftsbury Green Racing Project.
"I was happy with my day because it was snowing constantly all day, and loose snow is one of the more difficult conditions for me personally to ski in," said Ben Saxton.
Saxton started the day strong qualifying second, just behind Dakota Blackhorse - Von Jess of Bend Endurance Academy and continued his momentum into the heats.
"The heats were all about conserving energy throughout the day so that I could have the most energy in the Finals (should it come)," explained Saxton. The snow continued to fall but that didn't seem to slow him down as he fought to the end, finishing just 4.07 seconds behind Lustgarten. "Unfortunately I had a mishap with my pole strap several times in the final, and I didn't get to make a run at the finish like I had hoped to," said Saxton. "However, that's just how ski-racing works."
Brian Gregg (Minneapolis, MN) of Team Gregg, also had an impressive sprint day. Gregg qualified 16th but continued to fight through the quarterfinals and semifinals, just missing out on a chance in the finals, finishing eighth overall.
In the women's 1.1k classic sprint, Deedra Irwin of Sun Valley SEF and Pulaski, WI native, began the day qualifying fifth, while Annie Hart of the SMS T2 team and Stillwater, MN native qualified 10th.
"My strategy for the qualifier was to attack the climbs on the course and be quick and light on my feet." Irwin explained.
Irwin and Hart both finished second in their quarterfinal heats giving them both a guaranteed spot in the semifinals. In the semifinals, Irwin just missed out on second behind Julia Kern of Stratton Mountain School and finished third, unable to move on as lucky loser to finish seventh overall while Hart finished 11th.
"Heading into the rounds was similar focusing on the climbs in the second half, but drafting was important in the first half because of the headwind," said Irwin. "It was an exciting day. Felt great to get back into the heats!"
Period Three of the SuperTour is February 17-19 in Ishpeming, MI with freestyle sprints and 5/10km classic distances races.
Cable JNQ/CCSA Races
CABLE, Wisconsin (January 21-22, 2017) - The new Birkie start played host to the Collegiate and JNQ races January 21-22, which had traditionally been hosted at Telemark Trails for the past several years. The competition was tough, but warm temperatures and rain made the races even more challenging. The races kicked off Saturday with a 5/10k classic and concluded Sunday with a 15/20k freestyle race.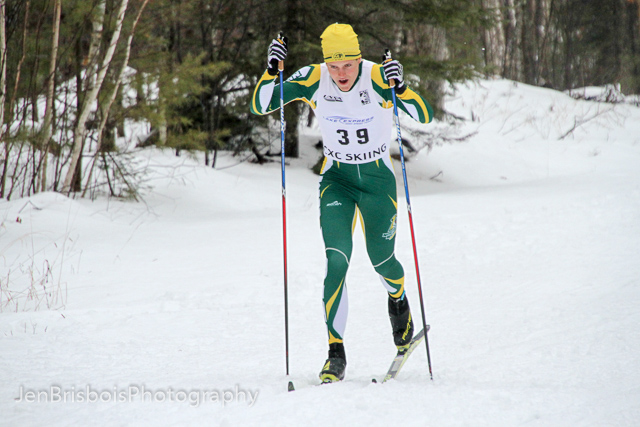 Adam Martin (credit - Jennifer Brisbois)
In the Men's 10k classic, Northern Michigan University's (NMU) Adam Martin (Wausau, WI) skied to a convincing win 0.78 seconds ahead of teammate Fredrik Schwencke (Norway) and CXC's Kyle Bratrud (Eden Prairie, MN) who finished third.
"First, I would like to express my appreciation to the race organizers and volunteers for putting on a great event despite challenging weather leading up to and during the event, said Adam Martin. "Secondly Saturday was great! I felt great and got to ski a bit with my teammate Freddy, so it was a fun race."
CXC's Felicia Gesior (Waukesha, WI) claimed the women's 5k win just 24.9 seconds ahead of NMU's Vivan Hett and Nicole Schneider who finished third.
"It was a fun classic day!", said Felicia Gesior. "I ended up going on klister skis when a lot of other people used zeros and I think it was a good call. I had great kick but also had good glide on the downhill. I had a lot of energy from the start and tried to just hammer over every hill. The race went by so quickly since it was just a 5k."
A battle for first in the men's 20k freestyle mass start, was determined by a photo finish after skiing four grueling laps of the course. First through third place were separated by just 0.02 seconds as Michigan Tech's Gaspard Guenot (Le Cerneux-Pequignot, Switzerland) stole first by a toe, just 0.7 seconds ahead of NMU's Adam Martin and Fredrik Schwencke who finished third.
In the women's 15k freestyle, NMU dominated, claiming eight out of the ten top ten finishes. NMU's Nicole Schneider secured the win by over 30 seconds ahead of CXC's Felicia Gesior and teammate Sophie Schimpl who finished third.
Several of the competitors in the Birkie Trailhead Cross Country Ski Races will also be representing the United States at the World Championships in Lahti, Finland Feb. 22-March 5 and at the World Juniors and U23 Championships in Soldier Hollow, UT, Jan. 30-Feb. 5.
St. Lawrence University Winter Carnival
LAKE PLACID, New York (January 20-21, 2017) - The St. Lawrence Winter Carnival in Lake Placid, NY January 20-21, kicked off collegiate racing for the Eastern Intercollegiate Ski Association, where Midwestern natives Mattie Watts (New Brighton, MN), Alayna Sonnesyn (Plymouth, MN), Olivia Amber (Lake Nebagamon, WI) Abigail Drach (Eden Prairie, MN) Andrew Egger (Minneapolis, MN) and Luke Brown (St. Paul, MN) claimed podium and top ten finishes.

Alayna Sonnesyn, Mattie Watts, Olivia Amber (credit: Joe Bianco)
The races began Friday with classic sprints. In the women's race, University of Vermont and Minnesota Native, Mattie Watts claimed her first collegiate win. Watts took a risk during the sprints and double poled the course, foregoing classic skis and opting for skate skis. "During my warm-up, I decided to double pole the races on my skate skis," explained Mattie Watts. "I have always wanted to double pole a race and this was my opportunity to do so."
Watts' risk ended up being her ticket to the top of the podium. "For the finals, I decided just shoot out from the start to get as far ahead as I could in hopes that they would not catch a huge draft. The whole day was pretty nerve wracking, but still fun and exciting at the same time." Watts secured first seconds ahead of Stratton Mountain School's Katharine Ogden and Colby College's Olivia Amber who finished third and University of Vermont's Alayna Sonnesyn of Lake Nebagamon, WI was fourth.
"Collegiate racing is a whole new playing field than MN high school races and JNQs." Watts said. "The transition to college racing is tough but fun road to go down. Balancing school, training, and life in general is difficult, but my coach, Patrick Weaver, has really done a great job at supporting me and my whole team."
In the men's classic sprint, Dartmouth's Fabian Stocek claimed the win ahead of LAV's Alexis Morin and University of New Hampshire's Peter Holmes. Minnesota natives Andrew Egger who skies for Colby College and Luke Brown who skis for Dartmouth landed in the top ten, finishing sixth and seventh, respectively.
The races concluded with a 5/10k freestyle. In the men's race, Dartmouth swept the podium with Callan Deline finishing first 0.57 seconds ahead of Fabian Stocek and Minnesota native Luke Brown. In the women's 5k, Katharine Ogden snagged first 10.1 seconds ahead of Dartmouth's Lydia Blanchet and University of Vermont's Alayna Sonnesyn of Plymouth, MN who finished third. Abigail Drach (Eden Prairie, MN) and Olivia Amber claimed spots in the top ten, finishing fifth and 10th, respectively.
Additional Notes
Midwest skiers will also be representing the United States at the World Championships in Lahti, Finland including Kyle Bratrud, Feb. 22-March 5 and at the U23 Championships in Soldier Hollow, UT, Jan. 30-Feb. 5 including: Adam Martin (Wausau, WI, Northern Michigan University), U23, Nichole Bathe (Fitchburg, WI, University of Alaska Fairbanks) U23 and Alayna Sonnesyn (Plymouth, MN, University of Vermont) U23.
About the author...

Mary Kozloski is from Green Bay, WI and is a UW Green Bay Ski Team Alumni, where she skied and studied Communications and Business Administration for four years. Mary continues to love and stay connected to the sport through writing. She is a travel and outdoor enthusiast and enjoys exploring everything Colorado has to offer, which she has called her new home state since fall of 2016.