Minnesota Fall Coaches Association Meeting Recap
October 14, 2017
With the changing of the colors and crisp morning temperatures, the annual Minnesota High School Nordic Coaches Association Fall Meeting was held Saturday morning at the Vasaloppet Center in Mora. While this year's meeting had no major proposals (State Meet format has been tabled until next fall at the earliest), there was still some intense discussions.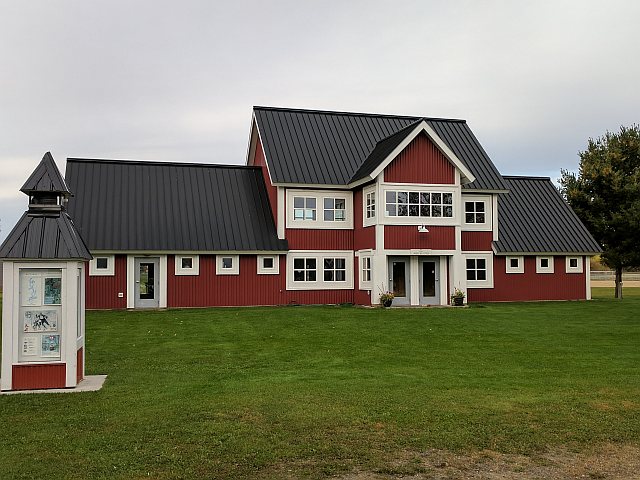 After hour of gathering and reviewing some of the latest products from a number of vendors, the meeting got underway with awards based on last season. Brad Moening, Highland Park, was named Coach of the Year, Clint Baker of Brainerd was awarded Assistant Coach of the Year and Volunteer of the Year was earned by Gunner Kleinschmidt, Little Falls. (No photos as none of the awardees were able to attend.)
Outgoing President Doug Boonstra discussed a number of brief topics, including club discussions to reduce the JNQ impact on high school season, as well as minimizing club practice conflicts. The upcoming season will only see two JNQ qualifying events, seen as a very positive move for all parties. There is also a stipulation that clubs that want to help wax at sections and State Meet setup in a neutral area and offer services to all participants.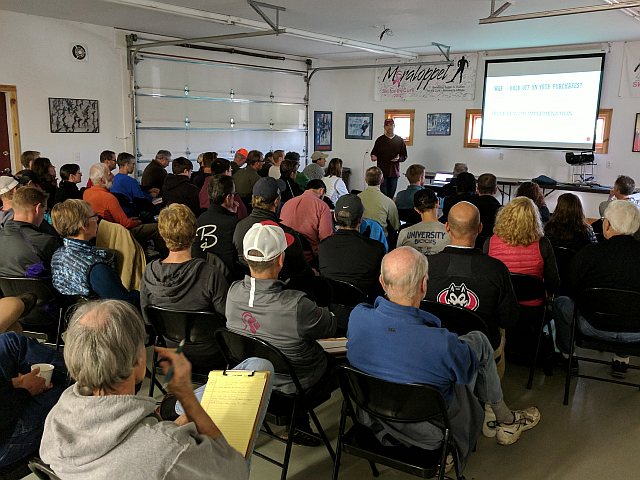 Two hot topics from last season, the "waxing truce" and ski pole length were addressed. The Minnesota High School League has picked up the charge on waxing regulations, and while still working on a draft set of rules, the general nature appears to be directed at athlete health by reducing the exposure to fluorocarbons. At this time it appears almost certain that powders and blocks will be banned, possibly even HF and LF waxes could also be included in some type of restriction or outright ban. Concerns were raised over the banning of LF and HF waxes, the enforcement of the rules (which is difficult to monitor), and interpretation of which products might fall under the ban (especially related to kick waxes). Many suggested more research needed to be done to implement a sensibly and safe policy.
The new pole length restrictions will be enforced this season, following the 83% of height for the length of classical poles (100% of height for skate poles). Measurement was defined as the athlete in shoes/boots (not on skis), with pole tip in ground and measured to top of the strap attachment. Boonstra pointed out that an 83% measurement almost universally came to the top of his test subjects shoulders. It was generally agreed that teams would be responsible for enforcing this policy and there would not be mandatory pole checks at the events. If a protest was to be lodged, it must be done at the time of the race before the competitor has left the finish area, it order to ensure the correct poles could be measured. There was some discussion on what the penalty would be for an infraction, with some suggesting the entire team be disqualified and others arguing the simple DQ of the athlete should be enough punishment. Skiers who broke a pole and received a replacement that might exceed the 83% rule would not be penalized. Consensus was the pole height restriction would be applied to varsity races only.
BethAnn Chamberlain, U.S. Paralympics Nordic Development Coach, gave short presentation on adaptive skiing and support for it within the high school ranks. Coaches were offered information about how to recruit athletes and equipment options. A sit-ski device and low-impact binding system were demonstrated. There will be an Coaches Education Clinic on Sunday, Nov 5th at Boulder Nordic Sport in Bloomington.
Two of major topics of the meeting followed: Rule book development and possible future State Meet venues. Chris Johnson of Minneapolis Southwest presented some of the progress made on developing a specific Minnesota high school Nordic skiing ruleset. A number of rules were briefly discussed, leading to the overall topic of enforcement and form of penalty. The concept from FIS of a yellow card system was bandied about. A yellow card would be issued on the first infraction, and if a second infraction was to occur any time that season, a second yellow card would be issued resulting in disqualification (or possibly a time penalty). Concerns over how to track yellow cards were voiced by many, as well as issues on equal enforcement across all conferences and sections. A question on legal classical turns emphasized the complexity of some rules and issues with consistent enforcement (reference was made to FIS Classical Technique Violation video -- and this video was found to be helpful as well). Johnson invited any coaches interested in helping develop and refine this ruleset to contact him.
With the contract for hosting the Minnesota State Meet at Giants Ridge expiring soon, proposals over where to hold future events were presented. The main proposal was for an alternating venue format between Theodore Wirth in the Twin Cities and the Grand Avenue Nordic complex at Spirit Mountain in Duluth (expected to open fall 2018). The idea was advanced to alternate between the venues each year, with Giants Ridge possibly being a third venue. The general feeling was that downhill skiing and Nordic skiing no longer needed to be held at the same venue. An official bid for hosting the State Meet will need to be submitted by January 2019. It was also disclosed that the state meet banquet will not be held this season.
Joe Haggenmiller, former Michigan Tech ski coach, now Athletic Director for CXC, gave a number of short presentations, including general background on CXC, as well as high school specific benefits and initiatives. One of the new offers this season from CXC is a High School Cup award for groups that participate in the CXC Cup series but aren't affiliated with any club.
Dave Johnson of St. Cloud area spoke briefly about the St. Cloud State womens team status: officially a supported college team with funding right now, but stilling fighting some lawsuits. They are seeking athletes for their team, and will continue to compete in Central Cross Ski Association (CCSA) events.
The warm and generous hospitality of the Vasaloppet organization was emphasized by a closing lunch of wild rice soup, bread, and apple pie bars with ice cream.